What is Small Cell Neuroendocrine Carcinoma?

A percentage raised through the various products and special editions go directly to the Neuroendocrine SCCC and LCCC research fund at M.D. Anderson called NECTuR. Many research objectives include expanding genetic analysis efforts in order to better understand the biologic nature of the disease, again with the goal of finding life-saving treatments.
What can you do to help,
Besides buying some cool stuff?

We don't have a celebrity face to represent SCCC, nor do we have corporate sponsors clamoring to support us.  Our teal, zebra-striped ribbon does not adorn packaged foods, and we don't have a telethon, direct mail or viral challenge campaign to make our cause well known.  What we do have is a dedicated group of women and their supporters who have raised $250,000 to date to fund SCCC research.  The Neuroendocrine Cervical Tumor Registry (NECTuR) was launched at the University of Texas M.D. Anderson Cancer Center in 2013 to collect data on the diagnosis, treatment and outcome of individual cases, with the hope of saving lives by finding treatments that work.  The role of genetic analysis to drive treatment options is a particularly promising area of focus. A percentage of the net sales are donated directly to the SCCC research fund at M.D. Anderson to further the goal of finding a cure for SCCC.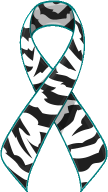 WEAR A ZEBRA PIN FOR AWARENESS
Sometimes the most simple way of passing awareness is just by telling someone!

HOME IS WHERE THE HEART IS, THEN IT SHOULD DRESS ACCORDINGLY!
INTERESTED IN WORKING TOGETHER?
CURATE WITH CARE, DRESS ACCORDINGLY, LOVE UNCONDITIONALLY!
Michael & Amy & The SK Team!